Ordering & Shipping
*Disclaimer & Low Inventory Update*
Due to high demand, inventory for bare root shipping is low. We are still accepting orders at this time. In the event your order cannot be fulfilled in Spring, your order will be reserved with priority for Fall shipping season. We will contact you if there are any changes that need to be made with your order. Thank you for your understanding. Order soon to secure your trees for Spring!
At Chestnut Hill Outdoors, we've been shipping mail order trees for over 30 years. We're experts at delivering healthy trees to your doorstep. Our trees are container grown in root-enhancing pots, ensuring healthy root systems and much better success upon planting. You can purchase our trees via a variety of ways:
– Online Order via UPS Ground. Delivered right to your doorstep. Start your order here.
– Local Retailers across the nation. Visit the Store Locator to find a store near you.
– Farm Pickup. Larger sizes and bulk ordering available out of our Alachua, FL location. Call to arrange an order, Price List available here.
Online via UPS
We ship our trees via UPS Ground during Spring and Fall, at the optimal time for planting in your region.
We accept orders year-round. During our Spring and Fall shipping seasons, we watch climate and weather patterns across the nation to make sure you receive your trees at the very best time for planting in your region. Your trees will arrive when conditions are optimal for success, and we'll watch out for any dangerous weather or late winter storms.  You can expect each USDA Plant Zone to ship around the same time each year.  See the estimated delivery dates for your USDA Plant Zone below.
We ship on Monday and Tuesday, so that trees arrive to you near the weekend. Orders received over the weekend, Monday, or Tuesday, typically are unable to be processed and shipped out for that weeks shipping schedule. We will notify you with a tracking number via email the week your trees ship. If you need your order to arrive at a specific date, please call our office and we will be happy to arrange!
Spring
In Spring we ship bare-root, dormant trees. All plants are dipped in a moisture-retention root gel before shipping and wrapped in plastic.  This way you get the very best root systems, properly cared for, and have the best success with your planting.
Plant Zones 8-9: Late January-February
Plant Zones 7-8: February-March
Plant Zones 5-6: March-April
Fall
In Fall, our trees are not yet dormant. As such, we ship the plants in containers. All trees are dipped in a moisture-retention root gel before shipping and wrapped in plastic.
Plant Zones 6: Late September
Plant Zones 7-8: October – November
Plant Zones 8-9: November – early December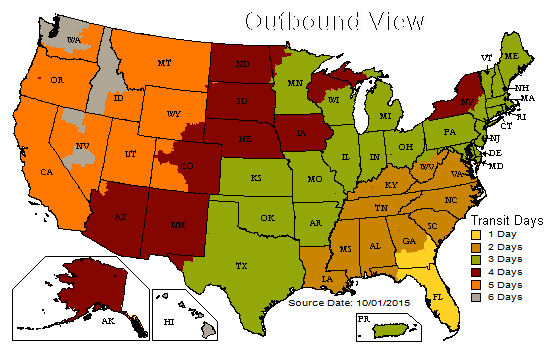 Shipping Cost
$0-$100 – $22.50
$100+ – 22.5%
Credit Card
Due to the time frame to capture payment, your credit card will be charged at the time of purchase. This ensures that we fill all orders on a first come-first served basis. All payment must be made in full before shipping. If you need to cancel your order, we will refund your card.
Quantity Discounts and Bulk Ordering
For quantity discounts and bulk ordering, please call our office. We offer wholesale pricing for practicing nurseries, landscapers, and orchardists.
Guarantee
We guarantee our plants to be true-to-type and in good health when they leave the nursery. Our guarantee DOES NOT INCLUDE unconditional replacement. You must notify us within 24 hours of receipt if there is a problem with any plants in your order, such as incorrect counts or damage to the plants. If you experience a problem with a plant later in the growing season, let us know as soon as possible. We will be fair and will do our best to keep you satisfied
Plants are living organisms and require care. The customer is responsible for the growth and survival once the tree is planted. We have extensive Planting Guides in our Learning Center!
Sales Tax
We collect sales tax on all sales shipped to Florida or picked up at the farm. Deliveries to out of state customers are exempt.
Returns
We will accept returns only if there is damage to the trees during shipment. If the box is damaged, open and inspect the trees. If they are not damaged, go ahead and plant the trees. If the trees are badly damaged, such as broken stems, call us immediately for instructions. Do not throw away packaging and we will instruct the shipper to pick up the damaged box and plants.